[ad_1]

On the edge of the Sea of Cortez, clutching one of the few swimmable beaches in Los Cabos, lies Chileno Bay Resort. Or as we like to think of it here at Honest Cooking – the jewel of Cabo San Lucas.
There are thousands of resorts across the globe that do luxury. From the classic over-the-top, in-your-face luxury that comes with gold faucets and butlers in every corner, to the contemporary, borderline snooty luxury where design and coolness trumps the old values of service and quality. And a bunch in between.
But there aren't many luxury resorts that manage to balance glamorous surroundings and ultra-professional service with a laid back family-friendly attitude, while at the same time feeling both classic and contemporary.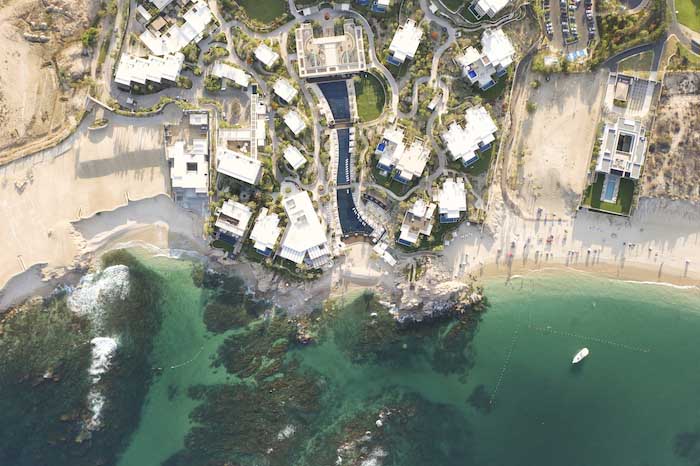 Chileno Bay Resort & Residences, Auberge Resorts Collection, is one of them. Situated just off the Mexico 1 highway, a mere 30 minutes from Los Cabos Airport, the resort is a world of its own. As you arrive, leave your transportation behind and pass through the archway leading to the outdoor reception area – you're also leaving the rest of your worries behind. Whatever hiccups you had traveling here, whatever issues you have back home – they immediately melt away and a sense of cool serenity washes over you. Maybe it's the welcome-cocktail talking, but if you're not dropping your stress levels by at least 70% within five minutes of arrival, you should have come here years ago.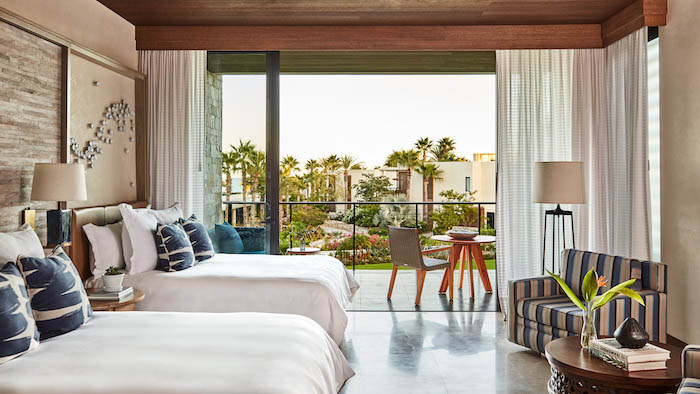 A golf cart whisks you away to your room, suite or villa, and whatever accommodation you've chosen you will find yourself in surroundings that are bright, natural, with lots of light and bathrooms that are bigger than most NYC apartments. The resort unfolds itself in front of you, centered around three massive Infiniti pools leading down to a private, swimmable beach. Swimmable being the keyword here, because in Los Cabos – that's unicorn stuff. Most beaches here are way too dangerous to swim at, so Chileno Bay has an advantage that not many other resorts here have, and they are certainly making the most out of that advantage. Next to the private beach, lies the resorts water sports club. Guests can freely make use of canoes, stand up paddle boards and other water sport equipment, and the friendly staff is more than willing to help, teach and even take you along for a ride if you want to. Pro tip: enlist one of the staff to take you snorkling – just outside the resort is a wonderful coral reef, with thousands of colorful fish and a beautiful underwater world. It is a memory of a lifetime, and it comes included at Chileno Bay.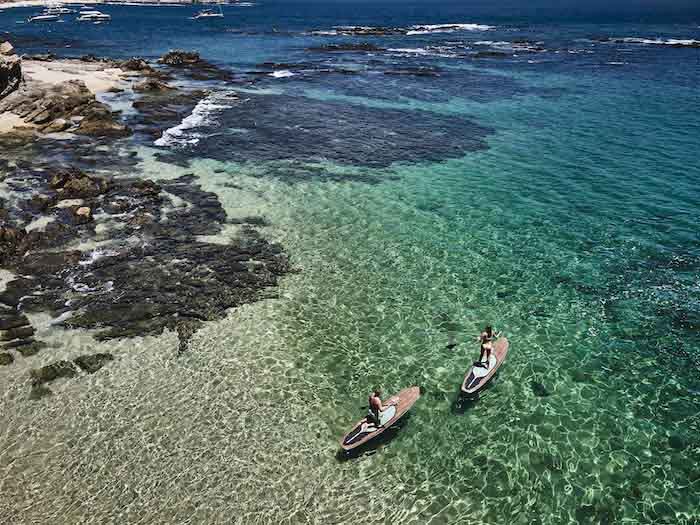 While sun and water are the main themes in Los Cabos, and certainly at Chileno Bay, at Honest Cooking we travel for food. You can give us 90 degrees and the most gorgeous pool in the world, but if you don't feed us well – we're not coming back. For Chileno Bay, that's not going to be an issue. The resort packs a gastronomic punch, and there are excellent options for breakfast, lunch and dinner alike.
Starting with the casual, beachside chiringuito TNT, an open air shack (well, a very fancy looking shack) that serves incredible tacos for lunch, and table side barbacoa for dinner. The location, just touching the sand of the private beach, rock formations surrounding it, meshes with the laid back but fun vibe to create an almost movie-set like vibe.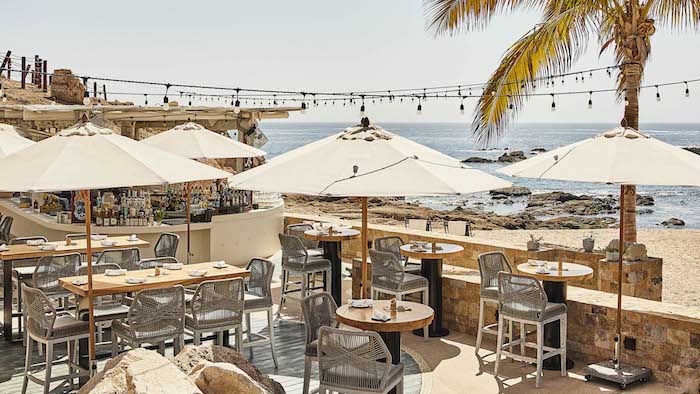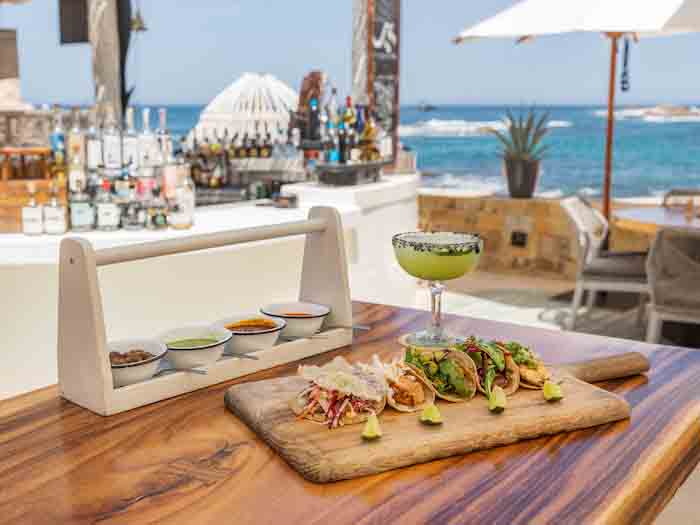 The food is vibrant, easy to love, and cooked at a level way above what your regular beach shack does. Drop by on a Tuesday, when more often than not, a whole pig is grilled and served together with a shot of Sotol – an agave spirit from Chihuahua that typically has a rattle snake in it (it does here too). Be brave, it is a wonderfully well balanced and smooth alternative to tequila and mezcal. Plus it makes for a great Instagram update!
CHECK OUT OUR PROPERTY TOUR OF CHILENO BAY RESORT HERE
Another casual spot is the
El Molino
coffee shop next to the reception. For coffee lovers like ourselves, this is a godsend, as most luxury hotels honestly tend to serve really terrible coffee. Here at Chileno Bay we were treated to a fantastic, in-house made Japanese cold brew, and oat lattes that were on par with the best. A great way to start your morning right.
Moving on to the new kid on the block – Restaurant YaYa, with Chef Eliana Godinez at the helm, is an exciting addition to the dining portfolio at the resort. Located at the top of the pool area, it boasts gorgeous views of the ocean from the terrace and a casually hip interior.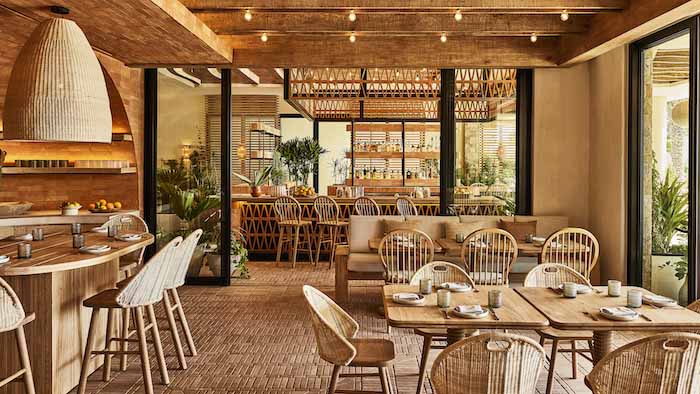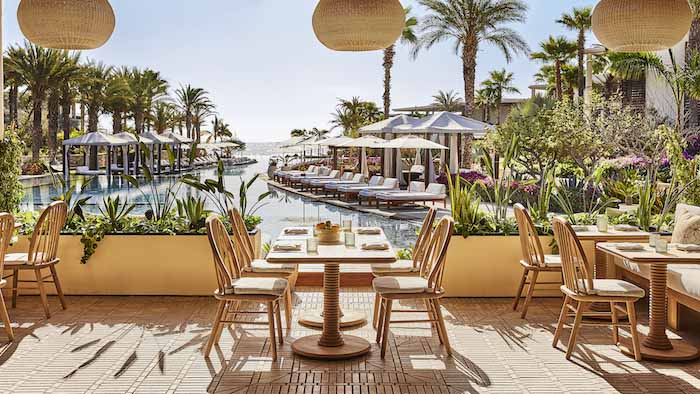 From the open fire kitchen Chef Godinez serves up Mediterranean inspired dishes from her time living and working in Europe, combined with flavors from her Mexican roots. Most dishes are kissed by the open flames, and paired with an array of herbs and spices that you can find all around the Mediterranean. The cooking is powerful, confident and bravely combines heritage and inspiration from two continents.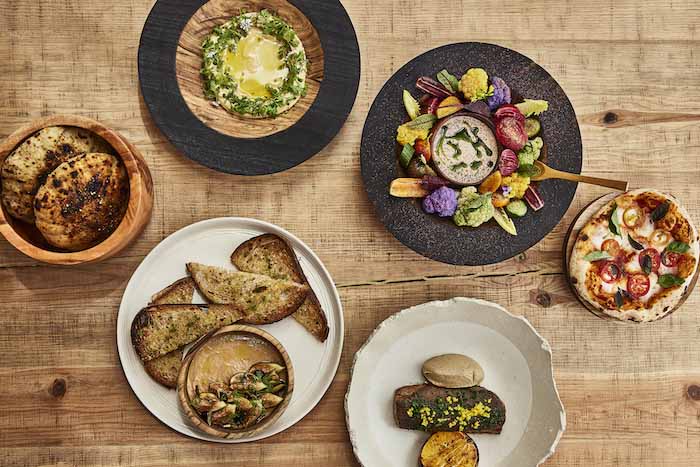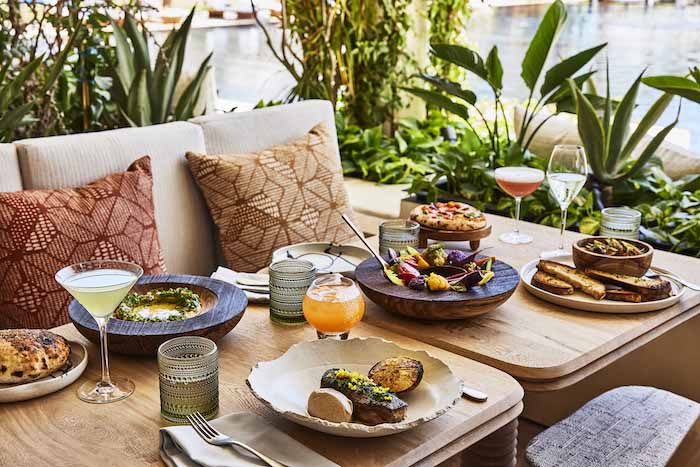 Start your dinner with the vibrant looking vegetable platter with lentil dip and sumac. A plating work of art that's sure to get your culinary juices flowing. The roasted sun chokes with dates and poblano can accompany any dish, but perhaps you want to stay with vegetables – so you might want to try the butternut squash with citrus creme fraiche and ginger, or the slow roasted carrots with labneh and pistachios before moving on to your mains. There, you'll enjoy some fire roasted Baja shrimp aglio olio – they look gorgeous, and pack a wonderful garlic punch. Have room for more? Maybe go full on comfort with an Italian-Mexican celebration of polpettes and albondigas, served with a most splendid focaccia. For dessert, let the whole table dig into a skillet full of nostalgia in the shape of s'mores, with 66% chocolate, homemade cookies and vanilla marshmallows.
Now, you might not want to venture outside the hotel during your stay at Chileno Bay, but if you are looking for yet another once-in-a-lifetime type of dining experience, hop in the complimentary shuttle and travel the 10 minutes or so down the coast to the sister resort Esperanza, Auberge Resorts Collection.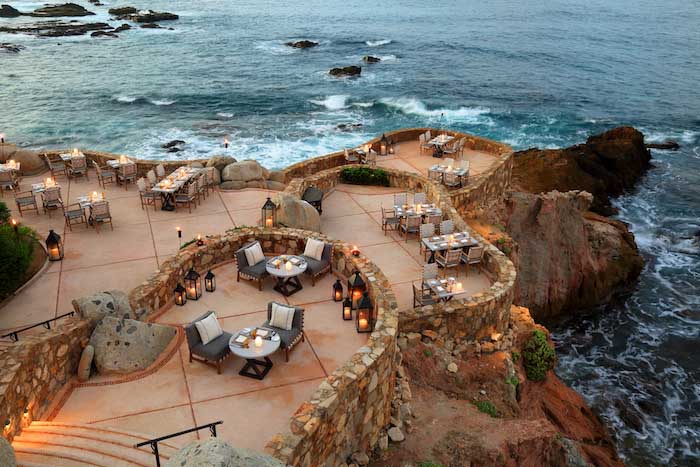 Another gorgeous property, with a more classic luxury vibe and a dining destination with a killer location. Hanging on to a cliff-side just where the ocean meets land, lies Cocina Del Mar. With multiple dining areas scattered across and inside the cliffs, it is one of the most beautiful restaurants in the world, and pretty much the perfect place to pop various questions about different types of life commitments. If you don't get a yes here, you don't get a yes anywhere. Come for the views, stay for the delicious seafood, and make sure you linger for a drink or two at the bar as you pat yourself on the back for booking a vacation in paradise.
Back at Chileno Bay, there is one more culinary adventure to be had, and this is a special one. Comal, a pan-Latin American restaurant spearheaded by chef Yvan Mucharraz and his Executive Sous Chef Orli Del Angel, sits on yet another out of this world location.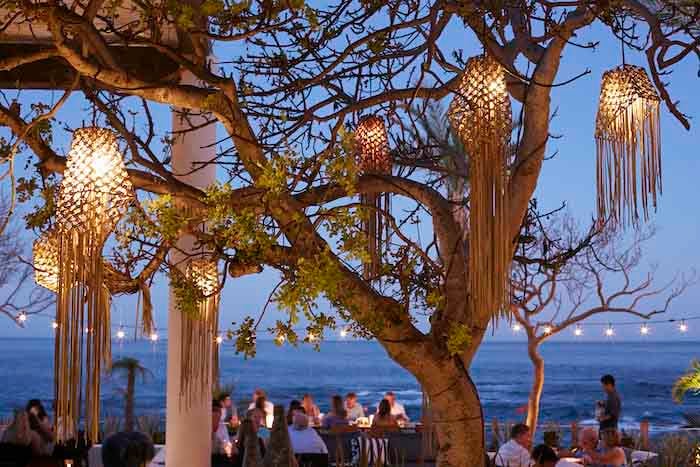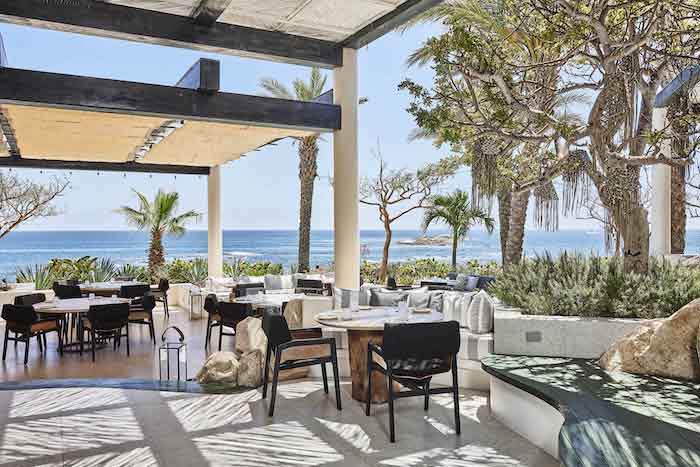 Overlooking the Sea of Cortez, the plates that come out of the kitchen are quite a view themselves too. Celebrating classics from across the continent, using local ingredients and contemporary techniques – the cuisine is fun, approachable, but at the same time with deep flavors that are firmly grounded in tradition. It's creative and inventive, and always delicious.
Start your evening with a plate of Kumamoto oysters, topped with spicy aji amarillo, a black Totoaba ceviche, with cucumber and fennel, and why not the delicious Baja scallop aguachile with chiltepin, turnip and koji? After that, move on to some local mussles, a take on moules marineres, but featuring chorizo, mezcal, compaño and tomatoes – a hearty appetizer that marries the old and the new in a most wonderful way. The short rib "doraditas" with beet slaw and lemon confit are also not to be missed. A fun new take on a classic dish, and one that elicits pleased mmmm's all across the table.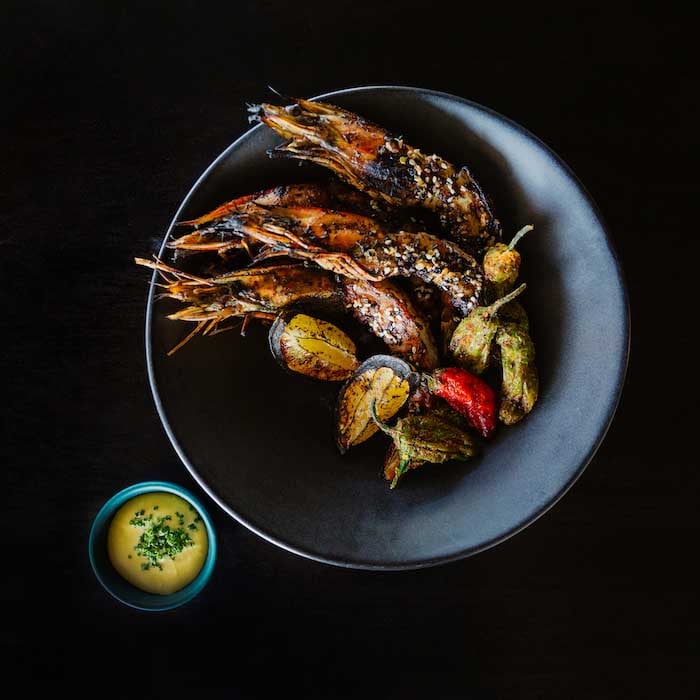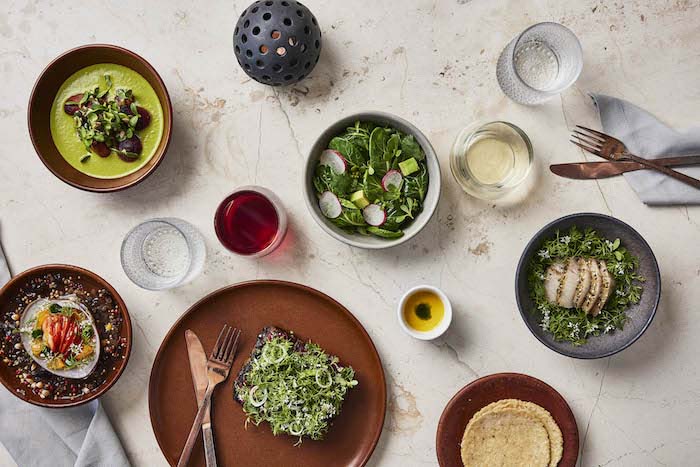 There is more, much more – the menu is actually quite extensive, and you'll need more than a couple of visits to go through all the dishes. Now, when the food is as delicious and creative as this, that's not a problem. Every new experience is exciting and mind expanding.
In addition to the beautiful setting and wonderful gastronomy that Chileno Bay offers its guests, there is another thing that stands out to us here at Honest Cooking. The service. It's uniquely warm, friendly and welcoming. You can't help but feel like you're at home, even if you're just staying for a few days. The staff all seem to be incredibly passionate about their work, their colleagues and the resort itself, and they welcome you to be a part of their lives in ways that most luxury hotels don't do. It's in the little things. Answers to questions don't seem rehearsed. Smiles are authentic. Sharing of personal experiences and details from life goes both ways – not just from the guests to the staff, but also back. After a couple of days at Chileno Bay it seems unthinkable that you would ever want to be anywhere else, and that's in large part due to the absolute world class service from the team.
So as you prepare to leave, walking back out through the archway to catch your transportation to the airport – don't be surprised if you feel a little pit in your stomach. That's just your body telling you not to leave paradise.
Chileno Bay has that effect.
Images courtesy of Auberge Resorts Collection
[ad_2]

Source link