[ad_1]

How to make homemade granola bars! These granola bars are simple, soft and chewy. They are delicious as-is or can be adapted based on your favorite dried fruits, nuts or chocolate. Jump to the Easy Homemade Granola Bars Recipe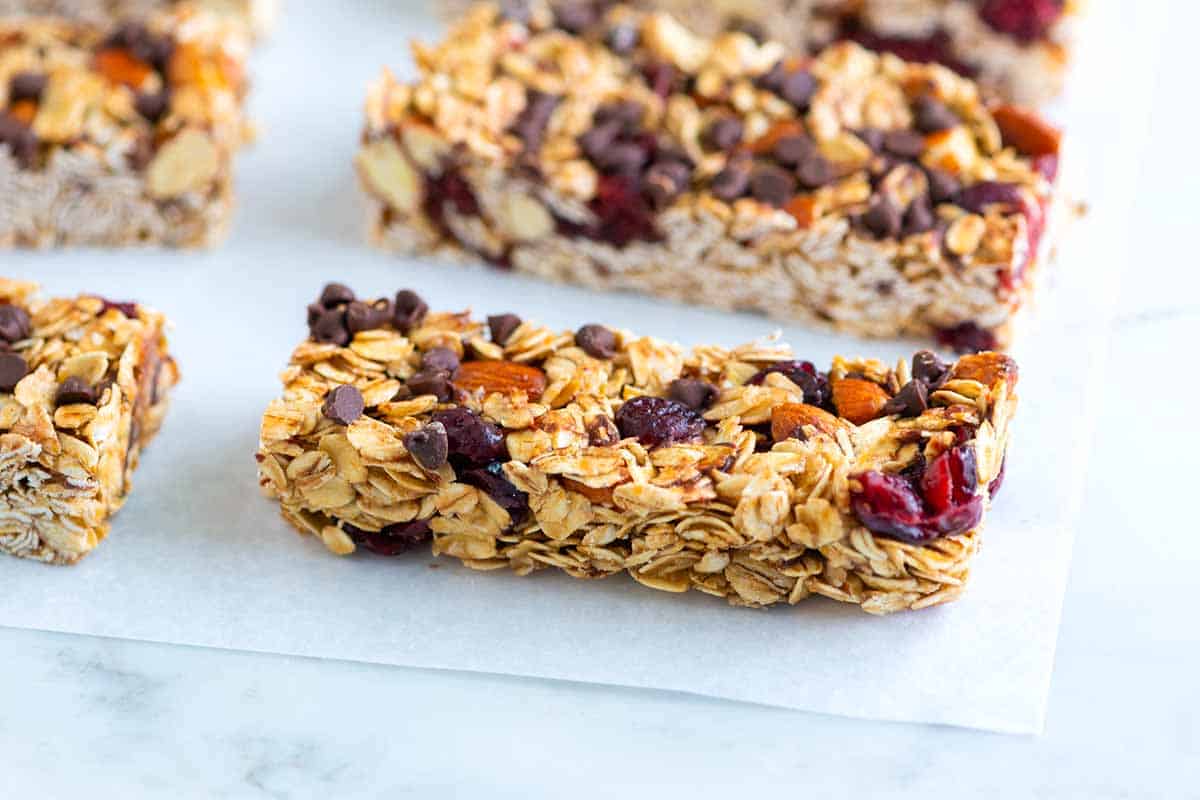 This Granola Bars Recipe is Flexible
We have a history with granola bars. A while back, we shared a cooking failure. The subject was granola bars. They tasted great, but fell apart. So, we sort of gave up and moved on with the thought that one day, we would be ready to give them another shot. After two years, we've picked up where we left off and have now figured out how to make these simple, soft and chewy granola bars. We're in love. They taste great, are incredibly easy to make and they absolutely do not fall apart (see our tips below).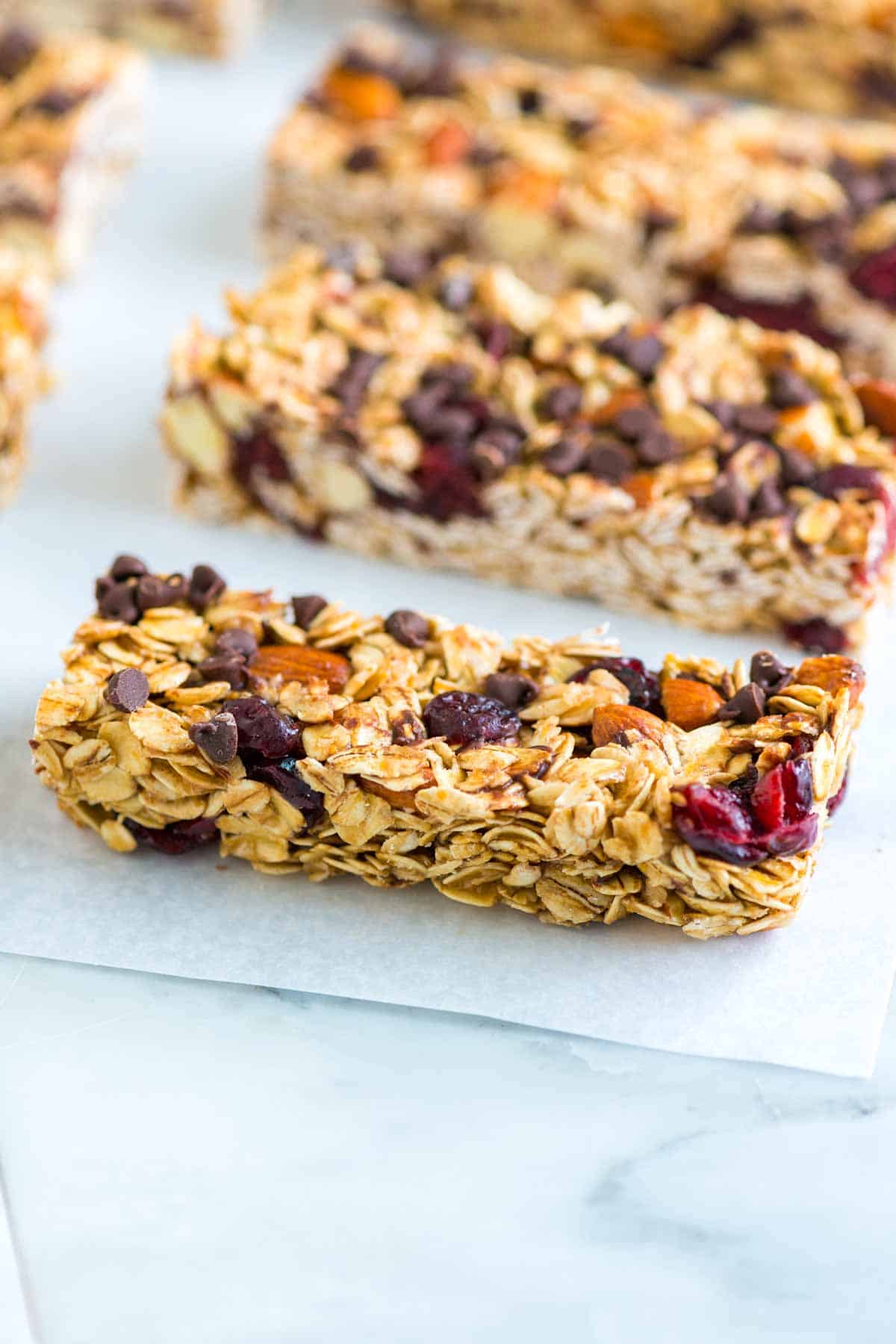 We've made these many times now and every time, they've been just a little bit different.
Here, you see whole almonds, dried cranberries and mini chocolate chips. We've also used dried cherries, apricots and unsweetened coconut. We're even thinking about adding pistachios next time.
The possibilities are endless — all you need to know is the base. Oats, butter, honey and brown sugar. After that, add what you like.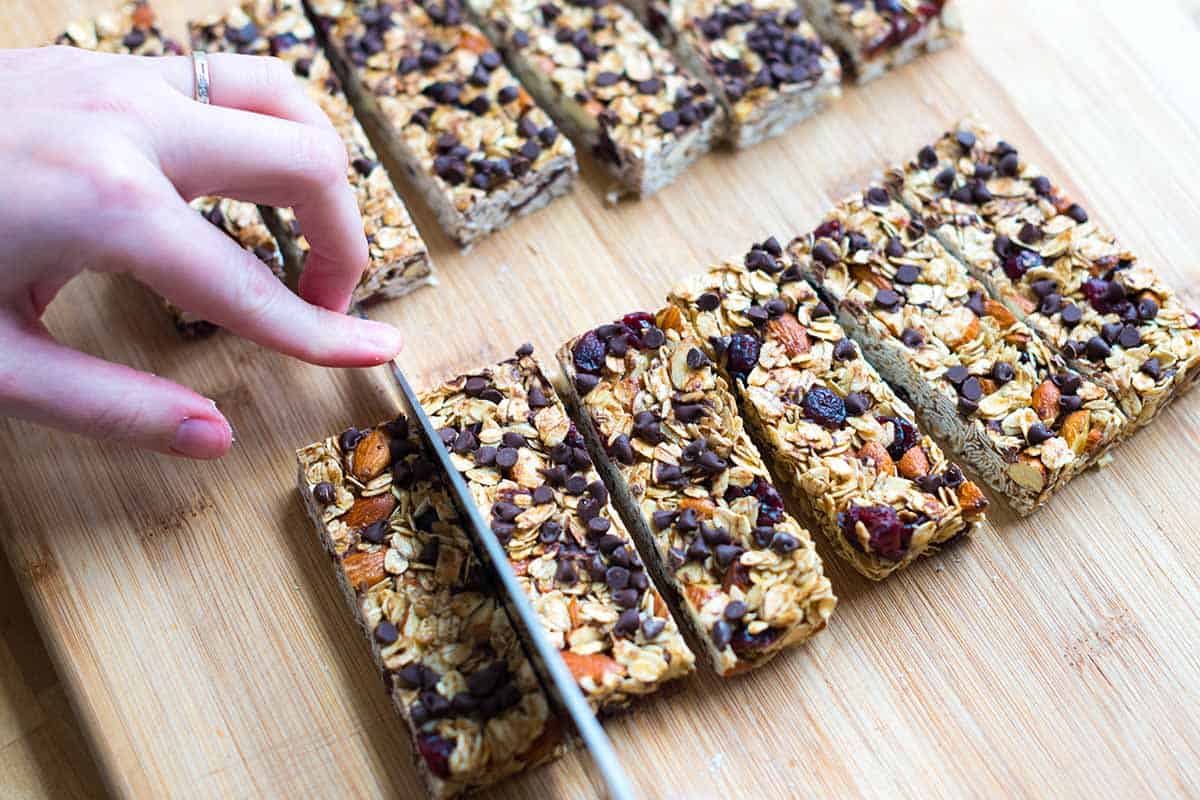 More recipes with oats: Try our Everyday Oatmeal Recipe, Easy Energy Balls, our favorite Overnight Oats or this Strawberry Banana Baked Oatmeal.
Tips for making the bars
Take care to press the mixture into the pan. After a few tries, we've found that it's really important to press the granola mixture into the pan. We've actually spent about a minute pressing before — the harder and longer you press, the less chance you'll end up with granola instead of granola bars.
Honey and brown sugar help make a glue for the bars. The honey and brown sugar really helps with keeping the bars together. Chocolate chips added to the mixture help, too. We add some to the granola mixture while it is still warm. You might notice some of the chocolate melts — this is totally okay, it acts as extra glue, holding the bars together. After that, we add more chocolate chips to the top — these don't melt.
Chill for two hours. Finally, we like to refrigerate the granola mixture for about 2 hours. This hardens everything and makes it easy to cut the granola mixture into bars. Right out of the refrigerator the bars will be hard since they are cold. Leave them out for an hour and they will warm to room temperature and become a little softer and chewy.
The bars keep at room temperature for about 1 week. Just make sure they are tightly covered or sealed in a container.
More easy snack recipes
Honey Almond Granola — How to make homemade granola with rolled oats, almonds, honey, and vanilla. Save a little money and make granola at home.
Easy Homemade Hummus — With a few simple tricks, you really can make creamy smooth homemade hummus and yes, we really do think it's better than store-bought.
The Best Homemade Peanut Butter — See how to make both creamy and crunchy peanut butter as well as an almond and chocolate variation.
Homemade Blue Cheese Dressing — Use this simple homemade dressing as a dip for veggies or for tossing with your favorite salads.
Recipe updated, originally posted March 2013. Since posting this in 2013, we have tweaked the recipe to be more clear and added a quick recipe video. – Adam and Joanne
Soft and Chewy Granola Bars
These homemade granola bars are so much better than what you can buy at the store, especially since you can substitute for your favorite dried fruit or nuts. While these are very simple to make, there is a 2-hour wait for the bars to firm up enough to cut. Feel free to add your favorite dried fruit, nuts or chocolate to these – it's completely up to you. Since we use a 1/3 cup of honey, we like to splurge on higher quality honey.
Makes 12 bars
Watch Us Make the Recipe
You Will Need
2 1/2 cups (230 grams) old fashioned rolled oats
1/2 cup (80 grams) whole almonds, coarsely chopped
1/3 cup (113 grams) pure honey
1/4 cup (56 grams) unsalted butter, cut into pieces
1/4 cup (50 grams) packed light brown sugar
1/2 teaspoon vanilla extract
1/4 teaspoon fine sea salt
1/2 cup (60 grams) dried cranberries, coarsely chopped
1/4 cup plus 2 tablespoons (65 grams) mini chocolate chips
Directions
Toast Oats and Nuts

Heat oven to 350 degrees Fahrenheit. Line the bottom and sides of a 8-inch or 9-inch square pan with aluminum foil or parchment paper.

Add the oats and chopped almonds to a small baking sheet, and then bake for 5 minutes, stir and then bake another 3 to 5 minutes or until lightly toasted. Transfer to a large bowl.

Make Bars

Combine the butter, honey, brown sugar, vanilla extract and the salt in a small saucepan over medium heat. Cook, stirring occasionally until butter melts, the mixture is bubbling and the sugar completely dissolves.

Pour the butter mixture into the bowl with toasted oats and almonds. Mix well. Let cool about 5 minutes, and then add the cranberries and a 1/4 cup of the mini chocolate chips. Stir to combine. Some of the chocolate chips will  melt a little. This is fine, they turn into glue and help to hold the bars together.

Transfer the oat mixture to the prepared pan, and then use a rubber spatula or damp finger tips to firmly press the mixture into the pan. Press hard here, this way the bars will stay together once cooled and cut — We press for about one minute to be extra safe.

Scatter the remaining 2 tablespoons of chocolate chips over the pressed granola mixture, and then use a rubber spatula to gently press them into the top. Cover then refrigerate for at least 2 hours or freeze for about 30 minutes. Remove the block of granola mixture from pan then peel away the foil or parchment. Cut into 12 bars.

Storing

Store granola bars in an airtight container for up to one week. For the softest bars, keep at room temperature. For slightly harder bars, store in the fridge. Bars will keep in the freezer for up to three months when wrapped well.
Adam and Joanne's Tips
Nutrition Per Serving: Calories 210 / Protein 4 g / Carbohydrate 30 g / Dietary Fiber 3 g / Total Sugars 16 g / Total Fat 10 g / Saturated Fat 4 g / Cholesterol 10 mg
AUTHOR: Adam and Joanne Gallagher


[ad_2]

Source link